Plantronics P51N Polaris Monaural Noise Canceling Headset

$134.99
Polaris Monaural Noise Canceling Headset
Monaural over-the-head headset, Polaris modular connector, Covers one ear, Flexible earpiece, Swivel voice tube, Clothing clip, Noise canceling microphone, Extra voice tube included, Adjustable headband, Extra donut foam ear pad included, Black and Gray.
Personal experience over the years this has been a good noise canceling headset with a bendable boom.
Plantronics P141N Polaris Monaural Noise Canceling Headset
$124.99
The noise-canceling DuoSet Polaris features a modular headband assembly that converts easily to an over-the-ear style headset, an adjustable clothing clip, and a Quick Disconnect feature. It also includes a hook switch control. This headset is designed for telephone systems with built-in headset amplifiers that terminate in RJ9 plugs.
Plantronics Wireless Headset PL-CS50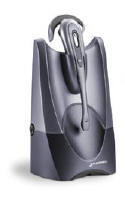 $239.00
Sound like the Pro you are with the Plantronics CS55 Wireless Headset System for your home cordless or corded phone. We've combined the clarity of traditional corded technology with the hands-free mobility of wireless, so you can move around your home (up to 300 feet) without interrupting or missing a call. The CS55H uses 1.9GHz voice-dedicated wireless technology, greatly reducing interference. Conversations are much easier and professional thanks to the noise-canceling microphone that filters out unwanted noises.
Plantronics P81N Polaris Monaural Noise Canceling Headset

$144.99
With four sizes of earbuds and an adjustable receiver arm, the TriStar headset can be custom fitted to just about anyone. Weighing under one-half ounce, this headset is a pleasure to wear. Quick Disconnect lets you walk away from your phone while wearing your headset, noise-canceling microphone improves clarity of speech. Polaris headsets for use with phone systems with built-in amplifiers.
Plantronics P171N Polaris Monaural Noise Canceling Headset

$144.99
Polaris DuoPro Noise Canceling Headset

Plantronic Polaris DuoPro convertible headset, Advanced ergonomic designs for superior balance, fit and comfort, Versatile convertible headset can be worn in either over-the-head or over-the-ear style (does not include neckband for behind-the-head wearing style), Over-the-head style has unique double T-pad headband to distribute weight evenly so there's never a speaker pad pressing on your ear, Over-the-ear style has conformable earloop that can be molded for a secure, comfortable fit, Noise-canceling DuoPro features an innovative anti-twist boom for perfect placement every time, Noise canceling is used in noisy environments (over 65 dB), Supports SoundGuard® Plus and Call Clarity technologies for superior sound, Can be worn on either ear, Includes adjustable clothing clip and 10-foot coil cord for freedom of movement, 2 Year manufacturer's warranty, Polaris direct-connect available for use with headset-ready phones and agent consoles, Color Black
Plantronics P251N Polaris Monaural Noise Canceling Headset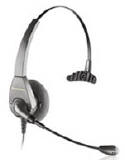 $124.99
Encore Monaural Polaris Headset
Plantronics Encore Monaural Polaris over-the-head headset, Lightweight over-the-head style (covers one ear), Ideal for many call center and office settings, Adjustable headband and soft ear cushions for stable fit and all-day comfort, Click-stop headband and turret for superior fit and consistent microphone positioning, Sound Enhancement System (SES®) lets you select bass or treble setting for full, rich sound, Supports SoundGuard Plus® and Call Clarity® technologies, 10-foot coil cord and adjustable clothing clip for freedom of movement, Voicetube is lightweight and unobtrusive, delivers great sound, Quality in all but the noisiest environments, Polaris direct-connect available for use with headset-ready